To get started you need to first activate your 14-day free trial on Axxio Portal.
To do so, go to www.portal.axxio.io/register/ and enter your Full Name, your email address and the Name of your organisation. Ensure that you enter a valid email address as you will receive a link there.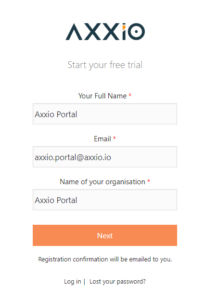 By clicking Next you will be asked more information about your Organisation, such as Telephone number, Address and VAT (if applicable). Enter those and press Start Trial to complete your registration.
By completing the registration, you are expected to receive an email with your details and a link to set your password. If you do not receive it, check in your junk folder. If you still cannot find it, please contact contact@axxio.io.
Once you set your password, log in at www.portal.axxio.io. You will be directed to a pre-made Home page that Axxio has created for you that would look like below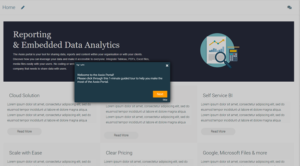 By default, the person that registers the organization becomes an Administrator of the Axxio Portal of your Organisation.
Congratulations! You have created your Organization's Axxio Portal. From the sidebar you can access some of the Sample Pages that Axxio has created for you. As an Admin of the Portal you can modify these pages, add new ones or delete existing ones and make your Axxio Portal your own!
To learn more about how to create/modify a page click here.